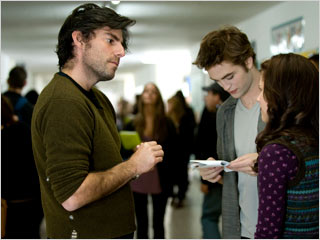 Fearnet has a great interview with New Moon director Chris Weitz where he talks about the commentary for the DVD and some of the choices that were made in the process of film making.  Chris had this to say about adapting a book to a movie in relation to the "months" passage of the book:
I think that the passage of time was an open opportunity for us to take something that was a literary device that works rather nicely in the book and turn it into a kind of elegant visual effects shot that doesn't necessarily seem like a very CGI-intensive shot, but it in fact was very labor-intensive and was done over the course of half of a year. The elements that go into it, it has to be shot in numerous passes in order to get the various seasons outside the window and all of that kind of thing, and I always knew this would be a really interesting way to use a motion-control camera to show the passage of time. So that I saw as an opportunity to expand upon what was in the book.
Read the whole interview over at Fearnet.