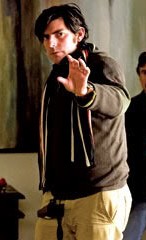 MTV interviewed Chris Weitz by phone for the New Moon DVD release. You can see part of the interview below. Please be advised that the video on the same page was shot several months prior to the DVD commentary track being recorded and the the information in there is not current!
"Our Lord?: In its Italian-set portions, "New Moon" features a significant amount of religious iconography, and Edward certainly suffers a great deal. Is he supposed to be a Christ figure?
"I think that he is in a sense he's doomed to suffer eternally," Weitz said. "He actually thinks of himself as a damned figure, but he's wrong about that. So in some senses, yeah, he is a martyr figure."
Black Eyes: In Stephenie Meyer's book, Edward's eyes go black in Italy. Why don't his eyes turn in the film?
"It's because I screwed up!" Weitz admitted.
Really? He just forgot?
"Well, yeah, I kinda did," he said. "Well, there are two reasons. One is that I messed up. The other reason is that I actually thought that onscreen it would be quite bizarre to see his eyes go completely black, and that it would be more satisfying and less jarring to have that moment of reunion be a reunion with revivified Edward. But probably, the long and the short of it, there are many details that I did not drop the ball on, and there are some that I did."