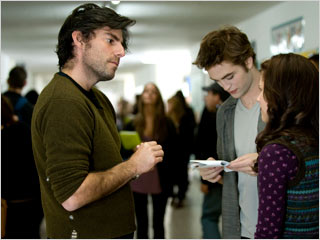 Once again Christina Radish proves why she is one of the best interviewers out their: insightful questions that demonstrate her knowledge of the product!
"IESB: Were there any specific parts of the film that you were most looking forward to talking about for the commentary?
Chris: I was very happy to talk about some of the more complicated shots that we did, like the roundy-round shot. That was a bit in which we took what was a series of chapter headings in the book and turned it into a motion-control shot in which the seasons passed as Kristen Stewart's character, Bella, remained in the same place. What I like to do with CG is to use it as expressively as possible, and not to make things blow up good, but to sometimes render something ineffable that would be very difficult to do in camera. That involved a lot of work, in which a motion-control camera captured the movement of our steady-cam operator. So, it was a pleasure to talk about that, and about what goes into something like that.
IESB: Having had to deal with stunts, green screen, CGI, weather, bugs and everything you had going on, what was the biggest challenge in bringing this film to the screen, so as to please as many of the fans as possible?
Chris: I think the greatest challenge was the logistical load of it. When you're talking about taking a film from beginning to end in one year, it's difficult to do that with a normal film where people are just sitting on their butts, talking to one another. But, when you add in underwater work, heavy CGI work and wire work, it becomes extraordinarily complicated. And then, you add in getting the London Symphony Orchestra to record a soundtrack, and getting 10 or so indie bands to compose songs especially for the film, there are a lot of timelines that are ticking along, at the same time, and you hope that you are able to combine it all at the right point. And, you always end up, just at the last minute, on the last day, your final CGI shot comes in. There are about 400 and something CGI shots, which actually isn't that many compared to what I've done before, but it's quite a lot. It can complicate things when you're in the editing room."