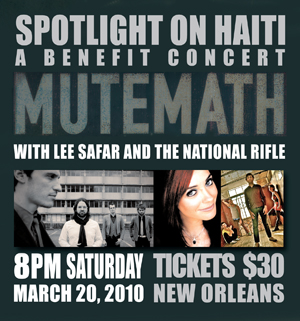 This just in from Twilight Fan Trips:
"Fan Trips.Travel are excited to announce the line-up for the Haiti Benefit Concert featuring MuteMath in New Orleans on Saturday, March 20, 2010!
The concert will take place at Mardi Gras World's River City Ballroom as part of an after-party event in celebration of the celebrity baseball game. As with the celebrity baseball game, a portion of the proceeds from the concert benefit the worthy cause for relief to Haiti. The lineup was carefully chosen to appeal to all music fans and is as follows:
MuteMath is a Grammy Award nominated alternative rock band from New Orleans. Their most recent album, Armistice debuted at #18 on the Billboard 200, and also charted at # 4 on Billboard Rock charts and # 3 on the Billboard Digital Albums and Billboard Alternative Albums charts the same week. Appropriately enough, MuteMath is headlining this concert event as they have a huge following in the New Orleans region. MuteMath's "Spotlight" was featured on the Twilight Original Movie Soundtrack.
Lee Safar is rising to the charts in her native Australia and around the world. Her hit single, "Take Me Away", is #2 on the ReverbNation Charts in Australia. In 2009, the online hit "I'm Here" triggered an international online frenzy amongst Twilight fans upon the announcement that the song was being considered by for inclusion on The Twilight Saga: New Moon soundtrack.
The National Rifle, a Philadelphia-based indie/rock/punk band, occasionally employing a saxophone and infectious, anthemic choruses, members Hugh, Lynna, Jeremiah, and Buddy go from jazz to classic punk sounds in no time at all. This diversity goes together perfectly and makes The National Rifle unique and memorable. This fusing of genres begs to be seen in person, and the group is known for their rowdy live shows. TNR enjoys a growing following among Twilight fans.
Tickets are on sale now and cost $30. Doors open at 7 PM and concert begins at 8. Click here http://www.fantrips.travel/pages/soh.html to purchase tickets or call 1 (800) 487-1136. Young adults and older are welcome."
Kimmy from His Golden Eyes, Lauren from Twilight Facebook and several other site operators will be their. Kimmy sent over a promo video.