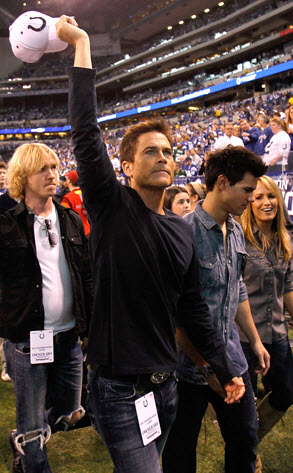 Taylor Lautner is having one action packed weekend. First he was in Direct TV's Celebrity Beach Bowl with Twilight co-star Kellan Lutz and countless other celebrities. Then he's hanging around to see the Superbowl because the Colts are in the game. Being a Michigan native, Taylor is rooting for the Colts, and of all people he seems to have bonded with Rob Lowe over the Colts love!
According to E! Rob Lowe stated:
"Taylor's another Colts fan and he's such a great guy," Rob said when I caught up with him at the Audi penthouse party at the W. "He and I are here for the Super Bowl as well, and I brought my boys with me, so we just have a boys club, who's been traveling around on this amazing Colts run."
But Rob says he left his wife home, who's a huge Twi-hard…
"My wife is the Twilight freak in the house and she loves it," he said. "She's really funny. I keep giving her reports on where we're going, what we're doing."
See the full story on E! where Rob Lowe is the latest celebrity to state what a down-to-earth guy Taylor is.