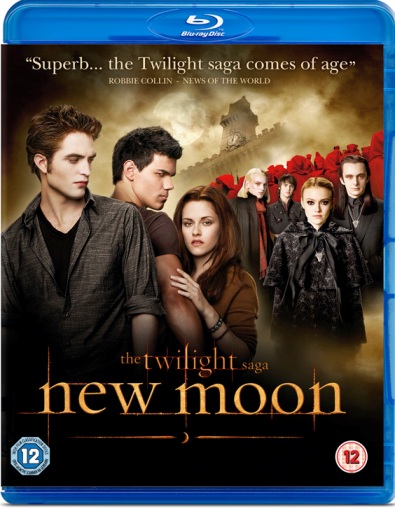 The distributor for the UK version of the New Moon DVD has released a detailed listing of what their product includes. Note that DVDs coded for that region do not play on US DVD players and newer DVDs recently have measures against uncoded players (not that we have personal experience hacking a player to make it region free or anything:) ) See the details below:
The DVD & Blu-ray release of New Moon on 22nd March 2010. As I'm sure you are aware, the DVD is available to pre order via Amazon.
The Twilight Saga: New Moon – continues on DVD & Blu-ray 22nd March 2010
Certificate: 12
Running time: 130 mins
Directed by: Christ Weitz (About A Boy, The Golden Compass)
Available on: Single disc DVD (£19.99), double disc DVD (£22.99) and Blu-ray (£24.99)
Studio: E1 Entertainment
Following phenomenal UK Box Office success in December 2009, current takings of over £26 million and the 5th largest weekend opening of all time, The Twilight Saga: New Moon comes to DVD and Blu-ray on March 22nd 2010.
The Twilight Saga: New Moon DVD and Blu-ray extras:
Single disc DVD (£19.99):
Extras: Director's commentary
Double disc DVD (£22.99) / Blu-ray (£24.99):
Extras: Director's commentary + over 3 hours of exclusive extras including:
The Journey Continues: a 6-part making of documentary
o  Life after Twilight
o  Chris Weitz takes the helm
o  The subtle details
o  A look at production
o  It's not magic
o  Ready for the World
Music Videos:
·         Death Cab for Cutie: "Meet me on the Equinox"
o  Anya Marina: "Satellite Heart"
o  Muse: "I belong to you" behind the scenes rehearsal footage
o  Mutemath: "Spotlight"
Fan Event Q&A with Robert Pattinson, Kristen Stewart, Taylor Lautner and Chris Weitz – CONTENT EXCLUSIVE TO THE UK
Fandimonium – a look at the die-hard fans
Team Jacob vs Team Edward: the ultimate love triangle
Deleted scenes
Edward goes to Italy
Edward Fast Forward
Jacob Fast Forward
Interview with the Volturi
Introducing the Wolfpack
Becoming Jacob
Edward goes to Italy
Jacob fast forward
Edward fast forward
The beat goes on: the music of "The Twilight Saga: New Moon"
Frame by Frame: storyboards to screen