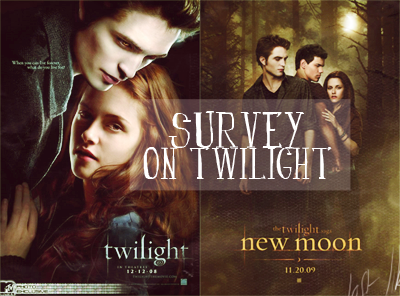 There's no need to tell the regular readers of this blog that Twilight is a worldwide phenomena.  Well, now it's  your chance to help some fellow Twilighters out.  Twilight Singapore (the blog that brought us all that FABULOUS footage from the Japan Twilight movie events in 2009) contacted us about university students in Singapore that need your help. Twilight Singapore  writes:
"NTU Students have contacted us for their final year assignment. They are doing a study of Twilight (Books & Movies) and its fans. They have prepared a survey for fans to complete anonymously wherever they are in the world.
The results of the survey will not be published in the media but the students have promised to share with us their findings and in turn we will share it with you guys! Here is the link to the Survey .
The university students write:
"Hello! We're final year NTU students, and we're conducting a study on Twilight and its fans. We really hope you can help by posting a link to it on the blog. We can also send you the results of our study when we're done. It should be an interesting read. Below is the template I used when posting to a few other LJ comms and sites, you can just use it on your blog if you want to. Thank you so much for your help!
Esther and team "