Borders Has just released information on their DVD specs. Where their version differs from other features common to all versions, we have highlighted in red. We are going to do one big comparative post as soon as one more major retailer reveals their specs.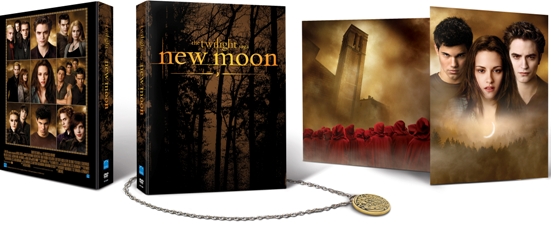 Pre-order the DVD here.

Details
Exclusive packaging that compliments our existing Borders Exclusive Twilight packaging. Exclusive medallion necklace gold side with wolf-pack tattoo, silver side is the Cullen crest on a silver chain.
Exclusive content
Includes previously unreleased EXTENDED SCENES

INTERVIEWS with cast members Robert Pattinson, Kristen Stewart, Taylor Lautner, The Cullen Family, The Wolf Pack, The Volturi and Director Chris Weitz

Unrivaled RED CARPET FOOTAGE from the movie premiere

Front row seats to The Twilight Saga: New Moon WEBCAST.
Other content:
Additional Special Features Include: A revealing AUDIO COMMENTARY with Director Chris Weitz and Editor Peter Lambert
A riveting 6-PART DOCUMENTARY that takes you behind the scenes
Exclusive band REHEARSAL FOOTAGE with Muse
MUSIC VIDEOS from Death Cab for Cutie, Anya Marina and Mutemath.