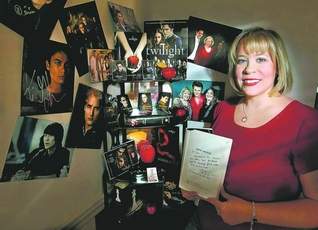 Alphie is probably going to kill Pel for doing this, because there's a story behind the picture, but what are friends for if not to embarrass you 🙂
As you can see, from Alphie's photo in The Tennessean surrounded by Twilight items, the Official Twilight convention hits Nashville this weekend at the famous Opryland Hotel. Guests include Peter Facinelli,  Mike Welch (who was just added), Bronson Pelletier, Kiowa Gordon, Dan Cudmore, Charlie Bewley.
"I'm 35 — this is my girls weekend!" says Lori Joffs, laughing. Joffs, is the administrator of Twilight Lexicon, one of the most popular Twilight fan Web sites. She has attended Twilight conventions in Atlanta, New Jersey, Miami and Chicago (often as a presenter for Twilight Lexicon), and plans to attend about 10 this year. With so many conventions under her belt, Joffs has seen a lot of Twilight moms.
"There are a fair share number of teenage Twilight fans," Joffs says, "but generally speaking it's a rarity to find a teenage fan who's (at a convention) without her mother. And her mother says she's a fan, too."
Be My Escape (Jen) will be joining Alphie at this convention, and as usual we will be live Tweeting the event! So if you are going to be at the convention, stop by and say hi. In fact you can even say hi to Lori's mom and dad who will be there too.  Lori's mom has the job of our random number picker. Whenever we give something away, mom does the honors. Starting in February, we will resume our giveaways.
Since we've been getting a bunch of emails asking, the Lexicon will be at just about every convention on the schedule (excepetion for LA premiere week and fingers crossed a Breaking Dawn set visit). Here's the current list of the next 5 months or so of who will be at which one. Just don't kill us if it changes slightly (husbands, children, parents, real-life and all that).
Nashville: Lori and Jen
San Fransisco: Lori and Laura
Atlanta: Lori and Jen
Los Angeles: Laura and Shelley
Houston: Laura
Arlington: Laura and Jen
Charlotte: Jen
Vancouver: Lori
Minneapolis: Lori and Laura