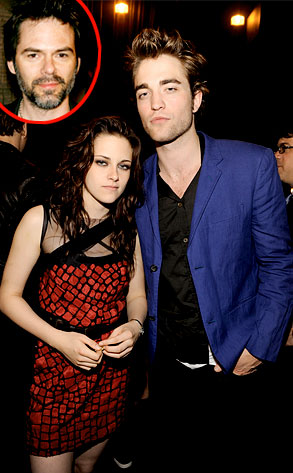 Ted Casablanca of E! caught up with Billy Burke at a charity poker tournament at the Playboy mansion and asked him a few questions about Robert Pattinson and Kristen Stewart. Billy placed 20th overall in the tournament (according to Billy's Twitter).  Billy blamed not doing better on the "distractions".
Here's some of what Billy said to E! Ted Casablanca hasn't spun another Robsten story out of it.
When asked about the pregnancy rumors, "Rob is probably pregnant with my child. It's funny no one picked up on me and Rob's affair."
How do you think Rob's handling all this attention? He seems stressed out on the set of his new movie, Remember Me… Think R.Pattz would ever get totally fed up with it and quit acting altogether?
"You mean pulling a Joaquin Phoenix? I doubt he would go that route. He's got a lot of talent. He's got his art, as opposed to being bogged down by all this bulls–t. I think he's handling it well. I feel a little bit for [Rob and Kristen]. I think [the attention] was unexpected by both of them."