We have been getting in all kinds of reports from release around the country.  From Forks to Puerto Rico people lined up to meet actors or just to be the first in line to get Twilight on DVD.
The Daily Penninsula reports that in Forks nearly 600 people turned out to celebrate teh DVD release.  People came from as far away as Maryland. The Quileute Dancers shared parts of their history, including parts of their sacred wolf dance.
Here are some photos from the Kitson DVD Party.  Thanks to Vescara for sending in the pics.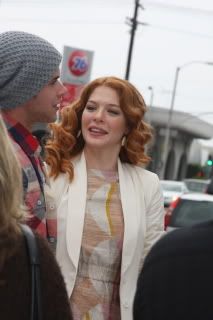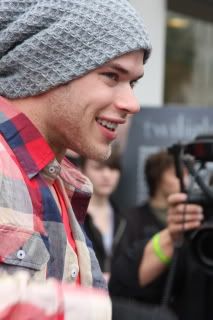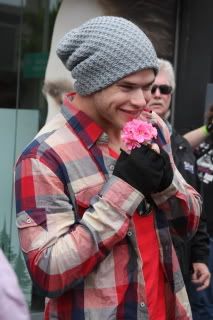 Even "Pocket Edward" ventured out to a midnight release party in hopes of meeting Ashely Greene.  You can check out his adventures here.
And finally we have a report from Puerto Rico.  Thanks Iva for the report and pictures.
Puerto Rico also had its own Midnight DVD release party at the Borders located in Plaza Las Américas, the island's largest shopping mall. While it was a small affair in comparison with other ones held at the larger cities, those of us who attended had huge amounts of fun. My friend Marta and I got there early in the evening to indulge in some Twilight related fun and excitement.
The Borders staff was amazing and planned a night full of Twilight inspired ideas, such as very hard trivia questions, a rock band that played very cool music,  the Twilight Movie Awards, and a lookalike contest. One of the best moments came when the staff played the message from the cast. The screaming was so loud that they very graciously played it at least four times so that we could all scream at the appropriate moments. I was very impressed with their dedication and enthusiasm!
I am sending you guys some pics of our adventures waiting to get our hands on our exclusive Borders Twilight DVD. Needless to say, we went straight to Marta's home to see it IMMEDIATELY.