TWILIGHT'S ASHLEY GREENE REVEALS SHE JUST READ THE SCRIPT FOR NEW MOON
And…"I like it better than the first one. I might be biased because I have a bigger part."
Plus – Greene comments on the rumors 90210's AnnaLynne McCord is joining the sequel – "AnnaLynne is actually a friend of mine… There are a lot of rumors, but that one holds a little bit of weight."
(Los Angeles – February 23, 2009) – Only "Extra" joined Twilight's Ashley Greene at Las Vegas' Prive Nightclub inside Planet Hollywood as she celebrated her 22nd birthday AND dished about this year's most anticipated sequel, New Moon!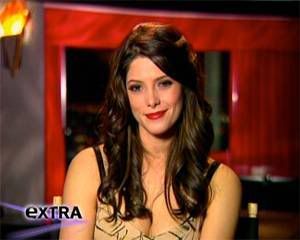 Greene exclaims, "I'm so excited. I finally, finally got the script….and it's good. It's really good….I'm really excited to work with Chris [Wentz, director]. I finally spoke to him the other day." She adds, "I like it [script] better than the first one. I might be biased because I have a bigger part."
As for 90210 star AnnaLynne McCord joining the cast, Greene responds, "AnnaLynne is actually a friend of mine, so I have heard about her being cast. There are a lot of rumors, but that one holds a little bit of weight…but I hope so. She's a great girl."
When asked how the success of Twilight has affected Greene, she says, "It's nice for me because as Alice, a lot of people don't recognize me because my hair is longer and everything's a little different so it's kind of slowly happening. Versus poor Rob [Pattinson] went from nobody knowing him to everything being documented." Revealing the weirdest fan request she's received, Greene says, "I finally got asked to bite someone at a convention."
Although the paparazzi have yet to catch up with Greene, she admits, "I have no social life….Right now it's my career…It's very, very difficult to have a boyfriend." As for what she looks for in that special someone, she reveals, "Someone that I can completely be myself around…Someone that gets along with my friends…if they don't get along with my friends, that's it [its done]."
New Moon hits theaters on November 20, 2009
"Extra's" interview with Ashley Greene airs Tuesday, February 24th.
EXTRA is produced by Telepictures Productions and distributed by Warner Bros. Domestic Television Distribution. For more information on the show, please visit "Extra" at www.extratv.com or AOL Keyword "Extra."