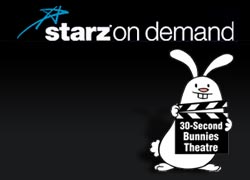 OK I think we can officially say we've seen it all. Twilight spoofed by bunnies!

Reelz Channel caught up with Edi Gathegi and chatted about New Moon.
Rotten Tomatoes caught up with Kristen at Sundance. Check out the video and what she has to say about New Moon.
Reuters UK has an article about Kristen and Adventureland.
Host Name Vamp Radio
Show Name: Sam Bradley Will be Our Guest
Description: Join Vamp Radio as they Welcome Sam Bradley on Wednesday January 21, 2009. As many of you may already know, Sam is a talented musician who has helped to create music for the hit movie Twilight. Please send any questions you may have for Sam to vampradio@vampradioonline.com As always, we welcome fan participation and encourage listeners to call in and ask our guests questions. http://www.myspace.com/sambradley06