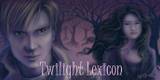 We appologize for the delay in general updates to the site and promise to add more info very soon. In the mean time, we do have two chapter discussion updates for you to start your weekend off with.
Chapter 24: Snap Decision was prepared by Sprtygal. Visit the message boards for the discussion.
Chapter 25: Mirror was prepared by Ilovetwilight. You can find the discussion questions on the message boards.