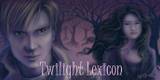 Once again we present to you two more chapters from Eclipse to read up on and discuss.
Chapter Eighteen: Instruction was prepared for us by LizaCullenAZ. Visit the message boards for the discussion questions.

Chapter Nineteen: Selfish was prepared for us by December. Again, be sure to check out the discussion questions and add your own thoughts.