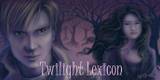 It's Friday and we have another set of chapters to discuss.
First up is Chapter Sixteen: Epoch. Read over the summary and then head over to the message boards for the discussion.
Then do the same for Chapter Seventeen: Alliance by checking out the summary and participating in the forum discussion.