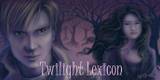 Its time again for the Twilight Lexicon's discussion Friday!
Chapter 14: Declaration prepared by TrueLove1. Read the summary and remind yourself of the chapter content the head over to the the message boards for the discussion.
Chapter 15: Wager prepared by LisaCullenAZ. Read the summary first then head over to the message boards!