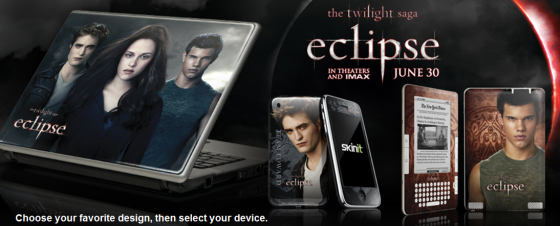 No, we are not talking about quasi-naked wolfpack members…sorry couldn't resist.  The Skin-It company just wrote in with this special offer.
"We wanted to give you the inside scoop on just-released official The Twilight Saga: Eclipse device skins from Skinit.com!
Device skins allow you to cover your phone, laptop, or other small device in a durable and colorful skin that brings flavor and creativity to your electronic device.
We'd also like to offer you and your readers a special promotion. If you order 2 or more skins from Skinit.com, we're offering $5 off and FREE shipping if you enter the code ECLIPSESKINS . This offer applies to any skins on the site, including custom-made skins.