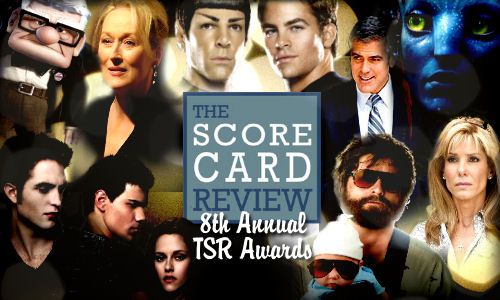 TY to Novel Novice for letting us know about this!
"TheScorecardReview.com, a great movie review/news website is currently promoting their 8th Annual TSR Awards — and NEW MOON is nominated in several categories:
Best Blockbuster
Best Music
Best Action Hero – Jacob Black
Best Action Hero – Edward Cullen
Best Ending
Best Visual Special Effects
Best Screenplay (Adapted)
Best Actress – Kristen Stewart for New Moon
Quote of the Year – "I just have one condition. If you want me to do it, then … marry me Bella." ROBERT PATTINSON – THE TWILIGHT SAGA: NEW MOON
Actress of the Year (Multiple Roles) – Kristen Stewart for New Moon & Adventureland
Actor of the Year (Multiple Roles) – Michael Sheen for New Moon & The Damned United
What's so cool about these awards, is that you get to rank all of the movies you've seen — rather than choose between them. (So you can vote for NEW MOON & any of your other favorite nominees, such as AVATAR or STAR TREK. Or in the "Best Action Hero" category, you can vote for BOTH Edward & Jacob!)
Voting is going on now:
http://thescorecardreview.com/news/awards/2010/02/11/8th-annual-tsr-movie-awards-vote-now/8401
The poll has been discontinued, see the comments for explanation.