Win a Con*Quest Adventure Journal for your next con!
Support their Kickstarter and tell your friends! Twilight has given me so many amazing experiences, meeting people and doing things I could have never even imagined 10 years ago. After traveling across the country, hosting numerous panels, getting hundreds of autographs and getting my picture taken with dozens of actors, I sure wish I would have had a journal (more than one actually) to keep all of those great memories in from a truly amazing time in my life. Sadly, there just wasn't anything available specifically for those conventions experiences.
Enter Shelley Harper, former PR roadie for the Twilight Lexicon, One Less Nemesis t-shirt vendor, and now, with her business partner Ted, creator of the Con*Quest Adventure Journal™ – a journal for comic and fan conventions. If only I had thought of this! Ted and Shelley were vending at Portland comic-con last January and noticed that the leather journal and hard plastic photo protector booths were pretty busy. At that moment, they said, "Hey why isn't there a journal especially for comic-cons. WE should make a journal especially for comic-cons!" And so they did.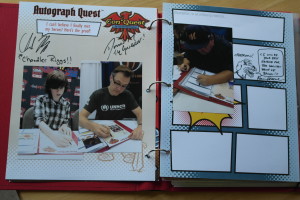 The Con*Quest Adventure Journal has pages for everything you do at a con. There are 30 pages to capture autographs, artwork, panel notes, foodie notes and stick pictures, stickers and stuff on. There are sleeves for your photo-ops, artwork and comics, a business card holder, a zipper pouch and each journal comes with a Sharpie. They knew you would want to be able to carry this around with you for easy access, so they had a custom long handled canvas tote bag created that is perfect for putting all of your con stuff in. It's really the whole package.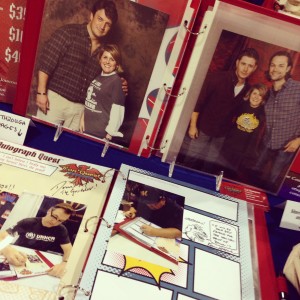 I'm supporting their Kickstarter by backing them for a journal and bag and I'll be giving it to one of you!
Just tweet this:
Support Con*Quest Adventure Journal – journal for #comiccon on @kickstarter http://kck.st/1sSdf6L @Quest_Journals @TwilightLexicon
You can also post on Facebook, tell us you shared it in the comments below.  We'll pick a winner on Thursday, July 17 so you can have your journal in time for San Diego Comic-con or any other con on your schedule! This contest is open to anyone in the continental United States only.  Let's help them get this awesome project funded!
Be sure to follow them on Twitter, like them on Facebook and check out their website here. To see a video with more details about the journal, they have a Youtube video here.