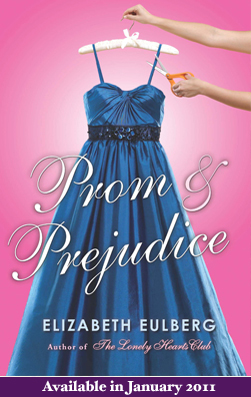 Elizabeth Eulberg is probably someone that many of you have met over they years, but you don't realize it. She is Stephenie Meyer's publicist who set up hundreds of events, has laid out thousands of books to be signed, etc. Well last year Elizabeth was a published author herself with her debut novel, Lonely Hearts Club (which we found out about on a Google alert because Elizabeth was too modest to tell us!) This year, Elizabeth's next novel has just come out. It's called Prom and Prejudice and it's an updated retelling of the classic Jane Austen Novel.
We are total Jane Austen addicts around here. Lori and Laura have read more Jane Austen fanfic than they can possibly remember. They can also recite many of the Austen novels by heart, and critique every move adaptation…they have seen them all. If you want an earful, just ask them about the pig incident when they saw the Kiera Knightly version together.
Laura read Prom and Prejudice in one morning on her Kindle because she couldn't put it down. (Shhh don't tell Elizabeth, but Laura thought she would hate it because she's read soooooo many crappy, updated versions of Pride and Prejudice. She was worried about coming up with euphemisms that didn't divulge her dismay. Fortunately, they were not necessary since she loved the book!)
Publishers Weekly just interviewed Elizabeth about this new book:
"Have you long aspired to write fiction?

I remember always telling myself stories when I was little. And when I moved to New York fresh out of college, I started to write a book in my head about that experience. But I never thought of actually writing a book—I think because I'm too practical. When I started working in publishing, I became more hesitant to write, since I was surrounded by so many amazing authors. So I put off doing it. Then one night, while I was still at Scholastic, I was having dinner with Dav Pilkey and he said, "You really should write a book," and he wouldn't let me forget about it, which I thank him for.
When you finally decided to tackle a novel, why did you choose to write for teens?
In publishing, I've always worked in that world and mostly read YA novels. Also I remember being in high school so well. It's a time in your life that you're figuring out a lot of things, including who you are. It's a time that's ripe for drama. And teen readers are the sweetest ever. They really get into a book. I've received some really amazing letters from readers and find this a great audience to talk to.
What led you to revisit Jane Austen's Pride and Prejudice—is that novel a particular favorite of yours?
My mother was a school librarian, so I grew up with someone who loved books—in fact I was named after Beth in Little Women and I have a sister named Meg. Books were always a big part of my life and I've always loved Jane Austen. I think she's one of the greatest novelists of all time. It's amazing that she wrote Pride and Prejudice almost 200 years ago and it still resonates today.
I was having a conversation with a friend about the novel, and we talked about how it is a story that fits in well with current times and has influenced popular culture—think of Bridget Jones's Diary and the Bollywood movie Bride and Prejudice. I began thinking about how it might be retold with teenage characters, though I was a bit nervous about doing a modern retelling of one of the most classic works of all times—no pressure there!"
Read more here.
Well to celebrate Elizabeth's book and to do a thank you for all the help she's given us over the years, we thought we'd do a giveaway.
We will send one lucky person an autographed copy of Prom and Prejudice and a copy of one of our very favorite Jane Austen films, Lost in Austen. You can be anywhere in the world to win, but be advised that we only have DVD versions that are for the USA and Europe (AKA regions 1 and 2)
So just put a comment in the box about what you love about Jane Austen or Elizabeth and we'll pick out a random winner on Sunday at 11:59pm eastern.