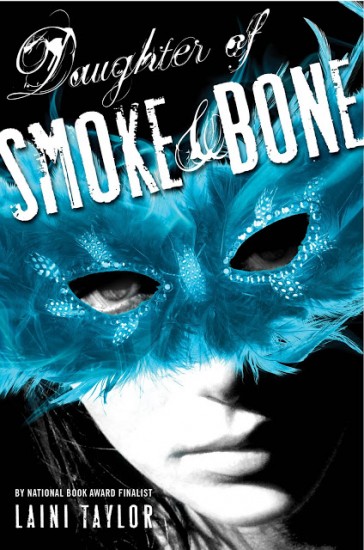 When you've been in this fandom long enough, you relize that Stephenie Meyer doesn't speak up too often! But when she does, her fans listen. Earlier this week Stephenie posted the following on her website:
Happy New Year, everyone, and I hope you had a fantastic holiday season! This is not a real update, I just like to spread the word when I come across a book that excites me. I read Days of Blood & Starlight by Laini Taylor last weekend (sequel to Daughter of Smoke & Bone) and I'm all fired up about it. Thank you, Ms. Taylor, for a thrilling couple of days. I am in your debt.
(Warning readers: this is one of those series that will have you tearing at your hair and gnashing your teeth waiting for the next installment. Be prepared.)Steph
Quick to take notice, Little Brown has offered up 10 copies of Daughter of Smoke and Bone to our readers as a gift. If you haven't heard of the book, here is some background information:
In master storyteller Laini Taylor's DAUGHTER OF SMOKE & BONE, which The New York Times called "a breath-catching romantic fantasy," readers are pulled into an amazing, multi-layered world in which Karou, a seventeen-year-old art student in Prague, finds herself caught in the middle of a brutal age-old war between the chimaera, creatures with human and animal attributes, and the beautiful and dangerous seraphim. When Karou meets a seraph named Akiva, she is set on a path of self-discovery that leads to love, loss and war.
"Daughter of Smoke & Bone" has received honors including an Amazon.com Top Ten Books of 2011, Amazon's #1 Teen Book of 2011, a Publishers Weekly Best Books 2011, a Huffington Post Top 10 YA Book of 2011, and a New York Times Notable Children's Books of 2011.
"Days of Blood & Starlight," the sequel to "Daughter of Smoke & Bone" is a New York Times bestseller and was named a Best Book of 2012 by Amazon.com and Publishers Weekly, received an "A" from Entertainment Weeklyand was named the "next big thing" by Wired Magazine.
So if you would like to win one of the ten copies of this book, just leave a comment below that says "PICK ME" and we will choose ten winners at random. We will start contacting winners on Monday evening. Good luck!