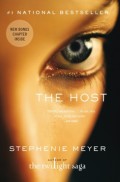 So yesterday we gave away two copies of the paperback version of the Host. Well, when I got home last night, I discovered that our friends over at Little Brown sent another box. So, we now have more books to give away. Instead of Wolfpack Wednesday, we are doing another The Host giveaway. Judging by yesterday's response, we didn't think anyone would mind especially since we have it to give away a few days early from it's April 23rd release. We're going to mail everything out on Thursday morning. Remember that we will send things any place in the world. Last week's Wolfpack Wednesday winner was from Latvia.
This latest version of The Host has a bonus chapter that "is something Stephenie wrote when she was working with the film producers – it was a scene that Stephenie always had in her head, but it couldn't appear in the book because her narrator was unconscious at the time. The "omitted" chapter would, chronology-wise, fall in between Chapter 58 and 59 of The Host."
According to the Little Brown press release:
With a 650,000 announced first print run, the paperback edition will feature a special Reading Group Guide that includes a new, never-before-published "bonus chapter," an interview with Stephenie Meyer, discussion topics and questions, and the author's annotated playlist.
THE HOST debuted at #1 on The New York Times hardcover fiction bestseller list and remained there for more than a year. Meyer's first adult novel was not only a huge commercial success, with more than 2 million copies sold, it also brought a whole new audience of readers to Stephenie Meyer. Featuring one of the most unusual love triangles in literature, THE HOST, appeals to rabid Twilight Saga fans and readers of classic literary suspense alike.
Movie rights to THE HOST have been optioned by Nick Wechsler and Steve and Paula Mae Schwartz, the team that produced the film of Cormac McCarthy's The Road. Andrew Niccol of Gattaca and The Truman Show will write the script and direct.
So if you would like a copy, just respond with the words "pick me" below, and we will send copies to two random people who reply. We will pick the winners at 11:59pm est tonight, April 14th.