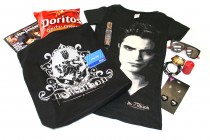 Walmart has offered us the chance to give two of our users a New Moon party pack to help them in the plans for the DVD release coming on March 20.  Walmart is the only retailer who will carry "The Twilight Saga: New Moon" Ultimate Fan Edition DVD & Blu-ray with never-before-seen footage from the upcoming "The Twilight Saga: Eclipse."  Additionally, Walmart is launching its "Twilight Saga Shops" in-store the week of the DVD release and it's full of your favorite Twilight merchandise. There are also separate sections in the shops dedicated to Vampires and Wolves so you can easily stock up on your favorite Edward or Jacob tees, bags, jewelry, and more!  Fans can also visit www.Walmart.com/twilight and choose to view their own theatrical trailer, get fun recipes for their movie viewing parties and find the closest Twilight midnight event nearby.
To help you get into the party spirit, Walmart is giving the Lexicon the chance to give away one Edward and one Jacob party pack to two lucky users.  Each party pack will contain the following items depending if they are Edward or Jacob related.
Twilight Saga New Moon apparel – Edward or Jacob Tees
Twilight New Moon Magazine "Life Stories Film Fantasy New Moon"
New Moon Nacho Doritos
Twilight party supply items
Twilight tote (messenger) bags (most will be vampire or wolf themed)
Twilight jewelry (most will be vampire or wolf themed)
Recipes for Twilight-themed snacks
Additional vampire-themed items
$30 Gift Card – to purchase Walmart's New Moon Ultimate Fan Edition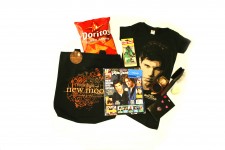 If you would like to win one of these party packs, respond to this post with the words "PICK ME" as well as the party pack of your choice.  If you want Edward pack, you'd say "PICK ME EDWARD."  For the Jacob pack say "PICK ME JACOB."  And if it doesn't matter to you which one, you'd just like to get free Twilight goodies say "PICK ME SWITZERLAND."
We will choose two winners at random at midnight on the 13th so that there is time for the winners to recieve their party packs and get their coupon to buy the Walmart Ultimate Fan edition of the DVD on March 20.